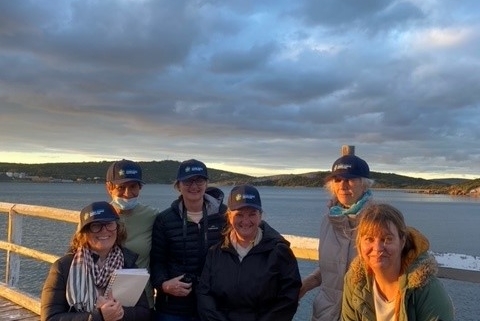 Art and ocean science come together to inspire unique exhibition
A new initiative connecting art and marine science will see a group of south-west artists create a series of contemporary artworks inspired by Western Australia's unique marine environment.
This exciting collaboration between scientists and artists will lead to the aquatic-themed public art exhibition 'Immerse' exploring issues about the marine environment early next year.
MIX Artists Inc is a group of contemporary artists in the Great Southern region of Western Australia who work in a wide range of media including sculpture, installation, painting, photography, textiles, and digital media.
WAMSI is connecting the artists with researchers across the partnership to help inform their art practice and provide information on the biodiversity of the South Coast marine environment.
The approach challenges them to use their creative skills to conceptualise and communicate marine science in a unique way.
Earlier this year, WAMSI's Research Director Dr Jenny Shaw presented an overview on the extent of research being carried out in the South Coast region, featuring content from researchers across the WAMSI partnership. The artists later joined the UWA Ecology Fieldwork trip to sample research in action.
The exhibition will document the artists' process, including the interaction between artists and scientists over the course of the year.
Opportunities for the artists to pursue their learning about the marine environment will continue through fieldwork trips, talks by scientists, provided resources and other activities and their own research.
WAMSI Research Director Dr Jenny Shaw, said the collaboration was a great opportunity to move science into the community.
"Often scientists are very skilled at research and know so much about a particular topic but have difficulty moving that knowledge into the wider community." Dr Jenny Shaw, WAMSI
"The creatives are exceptionally skilled at doing exactly that.  We are thrilled that this talented group of Albany Artists has decided to 'immerse' themselves in marine science and create an exhibition for the whole community to enjoy and perhaps learn more about some of the amazing things in their local marine environment."
MIX Artist Chair Annette Davis said the engagement with the scientists to date had been incredibly enlightening.
"Looking down the microscope, watching underwater videos, meeting two groups of students as they came in off the water, watching the informative and amusing presentations and hearing the students answer penetrating questions about their methodologies – it was all very interesting and stimulating and has contributed to our considerations about the exhibition and the curatorial approach," Ms Davis said.
The artists are continuing to connect with scientists during the investigative phase of their research.
The exhibition will take place in Albany and run from 20 January – 25 February 2023.
https://wamsi.org.au/wp-content/uploads/2022/09/MIX-Artists.jpg
640
480
Anna-Lee
https://wamsi.org.au/wp-content/uploads/2019/04/WAMSI-Logo-300x92.png
Anna-Lee
2022-09-15 15:51:09
2022-09-15 15:53:30
Art and ocean science come together to inspire unique exhibition