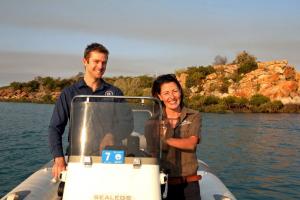 The first and only marine research station in the remote Kimberley region has been named a finalist for a WA Science Award, under the Science Engagement Initiative of the Year category, the winner of which will be announced at an awards ceremony on the evening of Thursday 11 October.
The Kimberley Marine Research Station (KMRS) was established in 2009 as a unique collaboration between Australia's oldest pearl farm, Cygnet Bay Pearls and the Western Australian Marine Science Institution (WAMSI) to help solve some of the logistical issues with working in such a vast and remote region.
The Kimberley Marine Research Station acts as a "foothold" into the Kimberley for marine scientists, providing vital infrastructure, logistical support and local knowledge to enable the scientists to work safely and cost effectively. Traditionally, the remoteness, lack of infrastructure, and extremes of climate, has meant that it was difficult and costly to undertake marine research here.
Located at Cygnet Bay on the tip of the Dampier Peninsula, 200km north of Broome, the fully operational research station provides on-site research support including accommodation, catering, vessel charter, transport and logistical assistance, aquaculture and marine laboratory facilities and qualified and experienced local staff to assist research teams.
"We are very honoured to be considered among the finalists for this award and look forward to opportunities to continue to profile and promote marine research in the region," said James Brown, General Manager of Cygnet Bay Pearls.
This unique public-private partnership between WAMSI and Cygnet Bay Pearls has already fostered collaborations and achievements. Earlier this year, scientists from the Australian Institute of Marine Science working with the KRMS team observed near-shore coral spawning in the Kimberley for the first time.
Dr Steve Blake, WAMSI CEO said, "The Kimberley Marine Research Station is truly unique and has allowed greater collaboration and sharing of local knowledge to further science in this dynamic, biologically and culturally rich region.
"Mr Brown's leadership and vision has been truly remarkable. I congratulate all that he and his Cygnet Bay Pearls team, have already achieved in establishing the KMRS as the most cost-effective platform for research in the Kimberley region moving forward. The short-listing of the KMRS for the WA Science Award is extremely well deserved."
Considered one of the planet's last great marine wilderness areas alongside the polar Arctic and Antarctic, the Kimberley falls within the remaining 3.7% of the world's oceans least impacted by humans.
The WA Science Awards were established in 2002 to honour and reward the outstanding achievements of WA's science and innovation community. The winners of the Awards will be announced on Thursday 11 October at the WA Science Awards Gala Dinner.
Photo: James Brown (General Manager, Cygnet Bay Pearls) and Ali McCarthy (Research Officer) out on the water at the Kimberley Marine Research Station
https://wamsi.org.au/wp-content/uploads/2019/12/IMG_2215_KMRS.jpg
200
300
admin
https://wamsi.org.au/wp-content/uploads/2019/04/WAMSI-Logo-300x92.png
admin
2012-10-04 12:17:42
2019-12-20 12:20:37
Marine Science Research Station in Kimberley up for WA Science Award