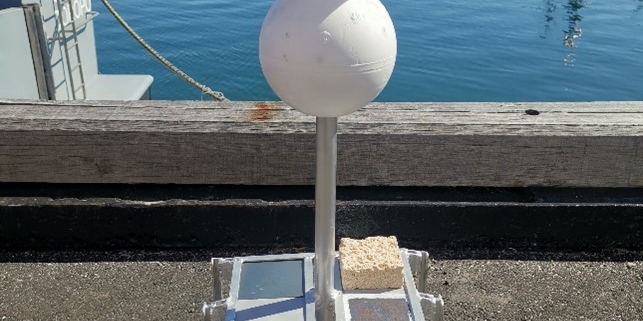 Researchers from Murdoch University and Edith Cowan University are investigating materials for a future artificial reef in Cockburn Sound that will act as a settling area for local, non-invasive invertebrates.
The experiment, carried out under the WAMSI Westport Marine Science Program, is trialling four common construction materials (PVC, low-carbon concrete, natural limestone and mild steel) to understand which materials might be favoured by native marine species.
The material is cut into tiles and placed on aluminium frames called arrays then suspended in water.
As key stakeholders in Cockburn Sound, Austal Pty Ltd, Fremantle Ports, and CBH Group are facilitating this research by hosting eight of these arrays underneath their jetties, which will remain in place for a year.
Using this study design, the researchers can investigate what materials not only support the most diverse invertebrate community, but also what material may enhance coastal productivity by supporting the greatest number and biomass of invertebrates.
Historically, artificial reefs were first created unintentionally when ships were wrecked, for example Omeo in Coogee, but are now intentionally constructed as a way to enhance coastal aquatic ecosystems.
Early artificial reefs were built from surplus industrial product such as used car tyres and even whitegoods, however these materials were not favoured by reef-building species and sometimes leached harmful chemicals. They can also be exploited by invasive species that colonise areas rapidly and outcompete native fauna for resources.
Dr Sorcha Cronin-O'Reilly from Murdoch University's Centre for Sustainable Aquatic Ecosystems and Henry Carrick from Edith Cowan University's Centre for Marine Ecosystems Research note that it was important to determine the structural design and suitability of various materials of artificial reefs to replicate a naturally occurring biotic community.
"We expect many different invertebrates to settle, such as tunicates, sponges, and mussels, with more mobile invertebrates such as predatory sea slugs and marine worms to hide among these colonies."
"Two weeks after deployment, we could already see some invertebrates had begun to inhabit the materials – showcasing the high demand for prime real estate, even in the ocean!"
As for which material may be most favoured by native invertebrates, it's time to place your bets.
This research is also locally supported by Italia Stone Pty Ltd, Collie Crete, Plastral Pty Ltd, and CSM Fabrication.
https://wamsi.org.au/wp-content/uploads/2022/12/WP-story.jpg
858
643
Anna-Lee
https://wamsi.org.au/wp-content/uploads/2019/04/WAMSI-Logo-300x92.png
Anna-Lee
2022-12-02 10:05:24
2022-12-02 10:05:24
Common construction materials trialled for future artificial reef