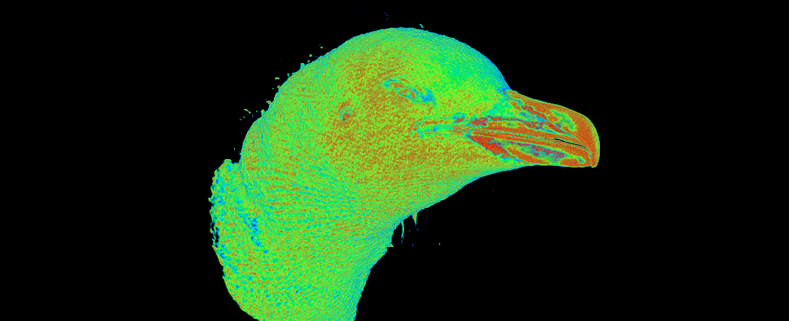 Researchers at Curtin University are determining the hearing sensitivity of a local penguin species to marine noise pollution.
The results could help determine to which anthropogenic noise frequencies little penguins ('Fairy Penguin') are most sensitive in the marine environment, with the aim of improving mitigation of noise pollution on local populations within Western Australia.
Sound pollution from shipping, near-shore construction, and other human activities can interfere with marine animals' communication and increase stress levels.
Dr Chong Wei, a Forrest Research Fellow from Curtin's Centre for Marine Science and Technology, is using sophisticated micro-CT imaging technology to create a computer model that can predict the hearing sensitivity of certain marine animals.
Computer simulations will be soon underway, with researchers using this model to study the sound reception process from the environment to the little penguin ear (i.e., outer, middle, and inner ear).
"Different noise sources have different characteristics, such as frequency. We want to know to which frequencies the penguins are most sensitive, and match these to known sounds in the marine environment – both human-made and natural," said Dr Wei.
Little data currently exists on any penguin species' sensitivity to sound, however insights from other diving bird species show a response to underwater noise.
Dr Wei said "Determining the noise sensitivity thresholds for endangered species and understudied species like little penguins is instrumental in determining which frequency of sound is most harmful and which anthropogenic noise may affect penguin populations and habitat.
"This will ensure improved conservation and mitigation strategies for the species."
https://wamsi.org.au/wp-content/uploads/2022/11/Penguin-1.png
419
789
Anna-Lee
https://wamsi.org.au/wp-content/uploads/2019/04/WAMSI-Logo-300x92.png
Anna-Lee
2022-11-15 16:03:04
2022-11-15 16:24:54
CT scans to shed light on little penguin sensitivity to noise