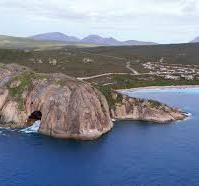 Uncovering the published and unpublished data relating to the economic, social and environmental dimensions of the waters off the south coast is the conversation the Western Australian Marine Science Institution wants to start at this year's AMSA Symposium in July.
The symposium, in Fremantle, aims to bring the South Coast to the attention of the wider marine science community and government bodies as well as begin to understand the knowledge gaps, impacts and the opportunities.
Symposium Chair and WAMSI Research Director Dr Jenny Shaw explained the purpose is to bring the research together that will help to develop a strong case for a future WAMSI research program to support south coast marine management.
"This is the first step in understanding what knowledge is available ahead of canvassing government, industry, community and research views on management and what's important to them about the south coast," Jenny said.
"Previously there has been little focus on the south coast, however, renewed interest in the opportunity for economic development in this pristine environment has meant it's time to make this area a focus for research."
This symposium session is open to all researchers working off the south coast of Western Australia and welcomes collaborative input into informing management with good science.
WAMSI is offering day sponsorship for five student presentations at its AMSA symposiums.
To be considered please submit your abstract to AMSA by COB Friday 22 February and also email your abstract or any questions to info@wamsi.org.au.
https://wamsi.org.au/wp-content/uploads/2019/07/Web-_0002_tim-marshall-82948-unsplash.jpg
1200
1800
admin
https://wamsi.org.au/wp-content/uploads/2019/04/WAMSI-Logo-300x92.png
admin
2019-02-21 09:45:20
2019-12-03 13:28:02
Final call for submissions: Uncovering data about the South Coast of WA