One Ten East Logs from the IIOE-2 voyage aboard RV Investigator have been posted on the WAMSI website during the month long voyage.
Log from One Ten East
The RV Investigator is currently undertaking oceanographic research along the 110°E meridian off Western Australia as part of the second International Indian Ocean Expedition. The voyage is led by Professor Lynnath Beckley of Murdoch University and the research is supported by a grant of sea time on RV Investigator from the CSIRO Marine National Facility.
Date: June 13, 2019
Time:  1200 AWST
Latitude: 31°S
Longitude: 115°E
Wind direction: W
Wind speed: 6 knots
Swell direction: SW 2 m
Depth: 587 m
Air temperature: 17°C
Sea temperature: 21°C
Notes: People are busily packing up all their gear in preparation for docking tomorrow. We have humpbacks singing!
Last Log from One Ten East
It's a 110°E wrap!
By Professor Lynnath Beckley (Chief Scientist)
Four thousand nautical miles and twenty-five oceanographic stations later, the forty scientists and MNF support staff on board the RV Investigator are returning to Fremantle, Western Australia armed with huge amounts of data and samples obtained from temperate to tropical waters in the south-east Indian Ocean. We have undertaken an ambitious bio-physical, ecosystem-scale examination of Australia's International Indian Ocean Expedition line (110°E) last visited in 1963 by scientists aboard the HMAS Diamantina.
The 110°E voyage is Australia's main contribution to the second International Indian Ocean Expedition which currently has 30 participating countries. Our objectives were to examine ecosystem-scale change from the 1960's benchmark, characterise microbes that contribute to the regional biogeochemistry, determine the pelagic food web structure and relate information on phytoplankton and particles to bio-optical quantities derivable from satellite radiometry. We have achieved this, and much more, almost without missing a beat, thanks to the remarkable scientific team and technical support on board the ship.
The 54 CTD deployments have been at the heart of operations with nearly half of them to depths exceeding 5,000 m. This is a long way down into the abyss and the physical and chemical measurements made, and the seawater obtained from the Niskin bottles fired at about 20 different depths, have been the life blood for the scientists on board for their experiments on nutrients, microbes, phytoplankton and micro-zooplankton. Various netting operations ranging from tiny 20-micron mesh nets to coarse 1 mm mesh nets have provided samples of the plankton. Forty EZ net deployments have collected stratified samples from 500m depth to the surface and the samples from the Indian Ocean Standard Net, a replica of one used in the original IIOE, provide a direct comparison with those collected in the 1960s.
We have made various measurements of optical properties and mixing in the water column, recorded acoustics from sonobuoys, towed a continuous plankton recorder between stations and deployed 14 weather drifters, two JAMSTEC deep ARGO floats and one IMOS ARGO float. On the return leg of the voyage, we towed the undulating Triaxus for 50 hours assessing the flow of the Eastern Gyral Current and crossing a large eddy generated nearly three months ago by Tropical Cyclone Veronica.
All the while, the 20-strong ship's complement kept the ship running smoothly, the deck crew assisted us with various winching and crane activities, wrestled with nets and expertly deployed and retrieved valuable scientific gear whilst the chefs and their team kept us exceptionally well fed. We even had a World Oceans Day celebration with our post-graduate students competing in the first ever "3-minute thesis" competition afloat in the Indian Ocean!
In between packing up our gear for demobilisation in Fremantle, we have had many fruitful discussions about our data, sample processing, integration and how we will relay our findings to the world. We trust that our daily "Log from One Ten East" posted on the IIOE-2 and WAMSI websites with informative texts written by our scientists and wonderfully illustrated by photographs taken during the voyage by Micheline Jenner have suitably conveyed our science and quest for knowledge about this special part of the blue planet adjacent to Australia.
Thanks to all who have contributed to making this RV Investigator voyage IN2019_V03 so successful. This is our final log entry as we dock at 08:00 AWST on Friday in the Port of Fremantle, our gateway to the Indian Ocean.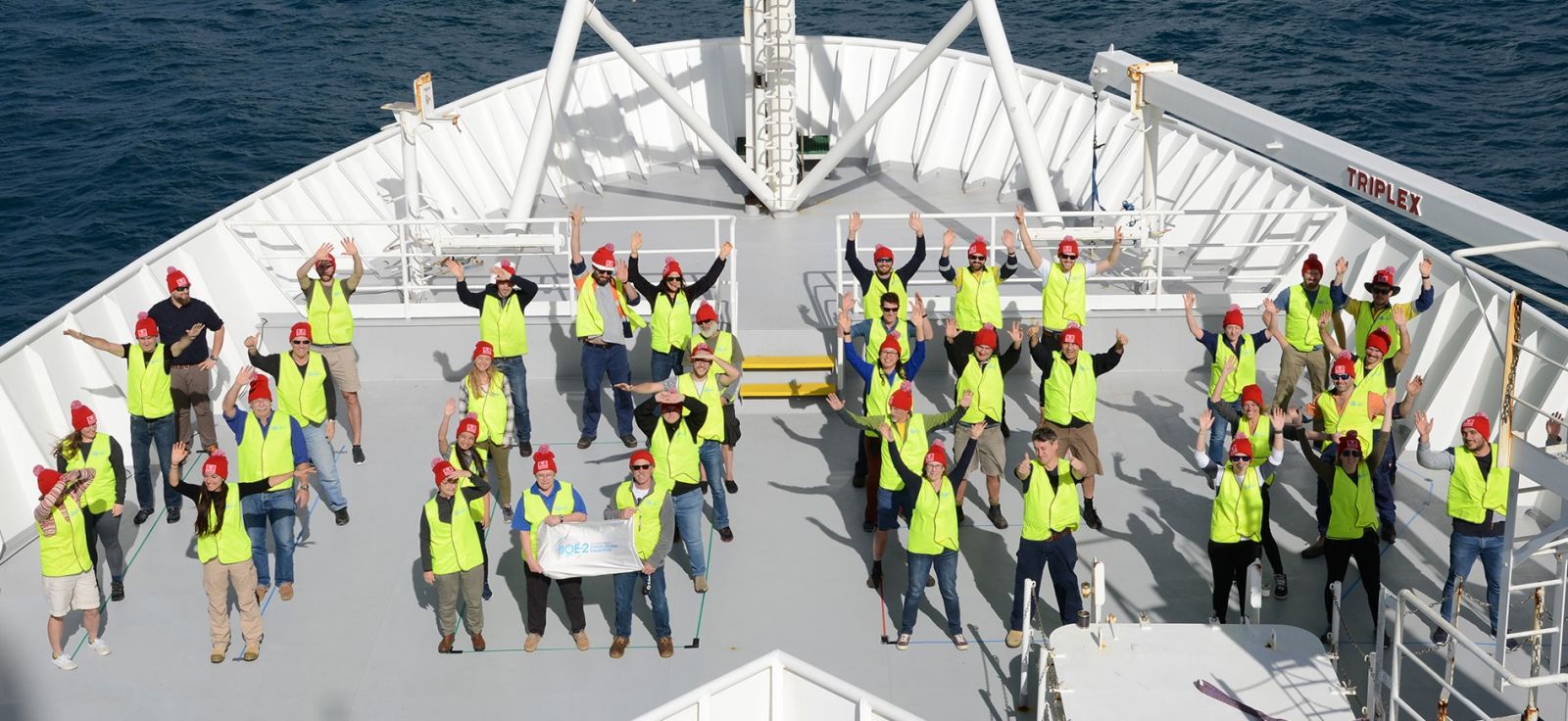 Captain Koolhof, Scientists and MNF Support staff wearing their fluoro vests and red beanies, form IIOE 2 on the foredeck of RV Investigator. Photo: Micheline Jenner AM.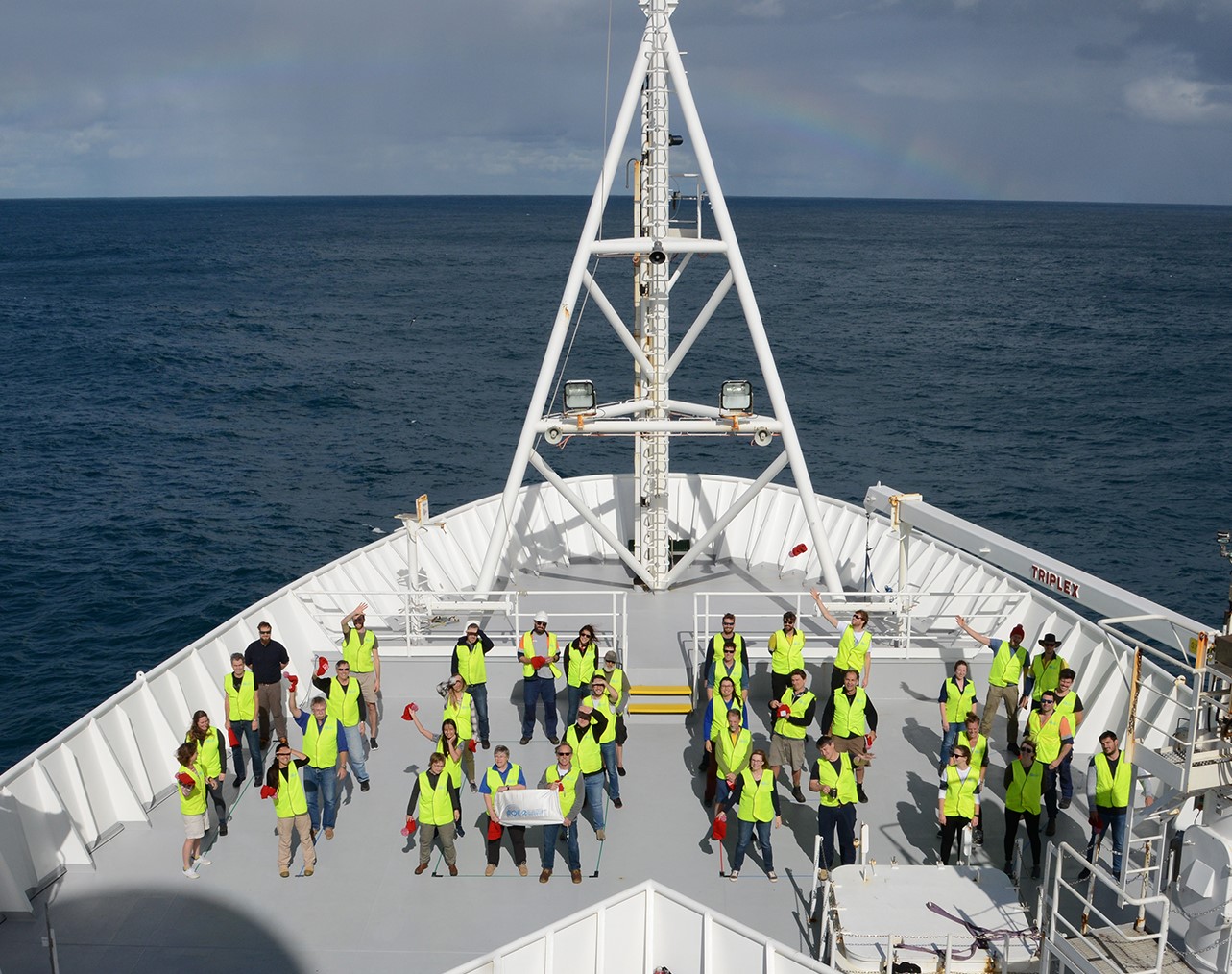 Beanies off to the completion of a memorable IN2019_V03 voyage along the 110°East meridian in the south-east Indian Ocean as part of the second International Indian Ocean Expedition. Note the beautiful rainbow by the mast that accompanied us for the remainder of the day. Photo: Micheline Jenner AM.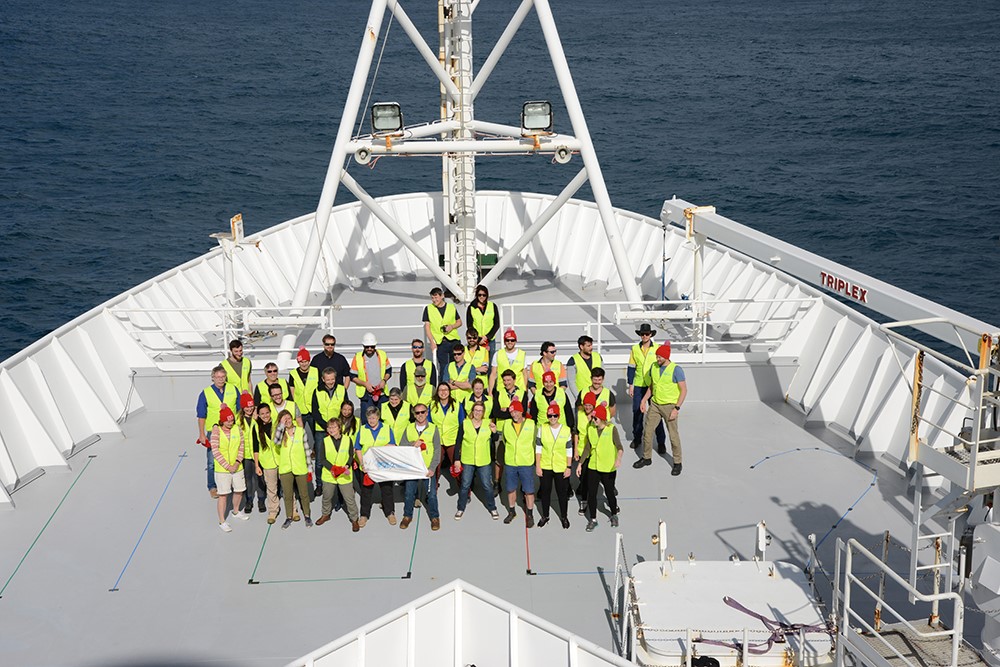 It's a wrap of the 110°East line voyage IN2019_V03! Photo: Micheline Jenner AM.
Thank you for following the daily posts of our Log from One Ten East at https://iioe-2.incois.gov.in and www.wamsi.org.au
Please share these links with friends and colleagues who may be interested in the Indian Ocean.
https://wamsi.org.au/wp-content/uploads/2019/06/Investigator.jpg
1365
2184
admin
https://wamsi.org.au/wp-content/uploads/2019/04/WAMSI-Logo-300x92.png
admin
2019-06-13 14:05:34
2019-10-23 10:58:42
It's a 110°E wrap! – One Ten East log