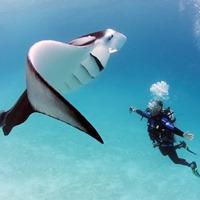 Some of the world's leading marine scientists will be Zooming in to high school classrooms this term to help Year 12 students achieve their best in their final year of study amid the COVID-19 confusion.
With the COVID restrictions keeping scientists grounded, Western Australian-based researchers from The University of Western Australia (UWA), Murdoch University, Edith Cowan University, Curtin University as well as federal government agencies CSIRO, the Australian Institute of Marine Science, and state government departments managing Parks and Wildlife (DBCA) and Fisheries research (DPIRD) have responded to the challenging time in education by offering their expertise to students studying marine and maritime subjects.
Led by WA marine science school teachers through the Western Australian Marine Science Institution (WAMSI) partnership, students will have unprecedented access to pitch questions about final year subjects to the top scientists in their field of research.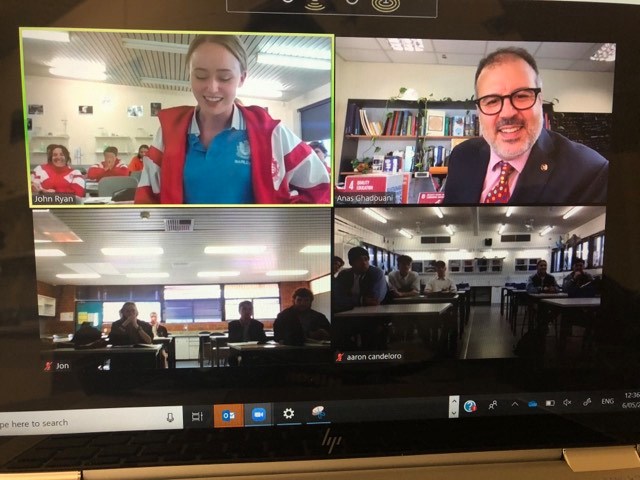 UWA Professor Anas Ghadouani is asked a question by a student from Sacred Heart College in Sorrento, WA 
Coordinator and Sacred Heart College marine science teacher John Ryan described it as a great opportunity for final year students who have been finding it hard to stay motivated.
"This is an exciting opportunity for all Year 11 and 12 Marine and Maritime students to learn from the scientists who are at the forefront of research on these subjects," Mr Ryan said.
Each week a scientist will conduct a presentation on one of the subjects in the curriculum followed by a question and answer session. The sessions will also be recorded and made available to teachers and students across the state.
The broad topics covered include: major issues affecting Australia's marine environment; strategies for managing marine biodiversity; and the impact of the enhanced greenhouse effect.
UWA Professor of Coastal Oceanography Charitha Pattiaratchi, who was involved in modelling the possible path of debris from the missing Malaysian airliner MH370, said scientists were happy to be able to help final year students through a difficult time.
"When I was 15 I had a little blue note book and on it I had written a note I'd copied from a comic book about a career as an oceanographer that motivated me to become an oceanographer," Professor Pattiaratchi said. "I hope in some way we can help to keep these students motivated to pursue a career that will see them help solve some of the marine environment's greatest challenges.
FOR MORE INFORMATION CONTACT: John Ryan@cewa.edu.au
ZOOM INTO SCHOOLS PRESENTERS

Professor Anas Ghadouani

Professor of environmental Engineering, The University of Western Australia

Issues affecting Australia's marine environment: Water quality, pollutions issues, microplastics, wastewater discharge, zooplankton, phytoplankton, blue economy

Professor Chad L. Hewitt

Director Biosecurity Research Centre, Harry Butler Institute
Murdoch Defence Research Coordinator, Research and Innovation, Murdoch University

Issues affecting Australia's marine environment: What are introduced species, why they are a problem, how they get here, why should we act, and what we are doing.
Professor Charitha Pattiaratchi

Professor of Oceanography, Oceans Graduate School, The University of Western Australia

The impact of enhanced greenhouse effect: Global sea levels and Thermohaline current

Professor Glenn Hyndes

Professor of Coastal Ecology, Edith Cowan University

The impact of enhanced greenhouse effect: Marine habitats and coastal communities
Dr Matthew Fraser

Postdoctoral Fellow, The University of Western Australia

Issues affecting Australia's marine environment: Loss of habitat

Professor Lynnath Beckley

Senior researcher, Murdoch University (2020 Australian Marine Sciences Association (AMSA) Jubilee Award for her career contribution to marine research in Australia)

Strategies for managing biodiversity: Marine Protected Areas

Dr Michele Thums

Senior researcher, Australian Institute of Marine Science

Strategies for managing biodiversity: Role of scientific research in marine environmental management

Dr Kelly Waples

Senior Scientist / Science Coordinator at Department of Biodiversity, Conservation and Attractions (Parks and Wildlife)

Strategies for managing biodiversity: Global protection of cetaceans.

Dr Alastair Harry

Research Scientist, Department of Primary Industries and Regional Development (Fisheries research)

Strategies for managing biodiversity: Role of scientific research in marine environmental management – Ecosystem Based Fisheries Management

Dr Iain Parnum

Senior Research Fellow, Curtin University

Strategies for managing biodiversity Seafloor mapping and its role in marine environment management

Dr Ming Feng

Senior Principal Research Scientist, CSIRO

The impact of enhanced greenhouse effect: Indonesian Throughflow – thermocline current

Charlotte Birkmanis

PhD Candidate, The University of Western Australia

Issues affecting Australia's marine environment: Loss of habitat (from a shark point of view)

Dr Marji Puotinen

Spatial – Ecological Data Scientist, Australian Institute of Marine Science

How tropical cyclones can cool overheated sea water and reduce the impacts of coral bleaching)
Attached files:
Zoom Into Schools Poster.pdf
https://wamsi.org.au/wp-content/uploads/2019/07/Web-_0002_tim-marshall-82948-unsplash.jpg
1200
1800
admin
https://wamsi.org.au/wp-content/uploads/2019/04/WAMSI-Logo-300x92.png
admin
2020-05-05 11:13:32
2021-02-16 17:17:42
Leading Marine Scientists Zoom In to Help Year 12 Students