The Index of Marine Surveys for Assessments (IMSA) portal was launched by the Western Australian Minister for Water, Forestry, Innovation and Science, the Hon. Dave Kelly MLA in March to provide the first free access to the vast amounts of environmental impact assessment data that would otherwise be locked away.
IMSA facilitates the exchange and sharing of data sets and knowledge amongst industry, government and the community providing access to marine survey reports, metadata and map layers as well as the processed data products and raw data packages, which are stored at the Pawsey Supercomputing Centre.
Developed by the Department of Water and Environmental Regulation (DWER) and the Western Australian Marine Science Institution (WAMSI), IMSA also provides a repository for environmental monitoring data collected for strategic government projects such as the recently announced WA Port and Environs Strategy (WestPort).
"IMSA is already showing great promise with valuable oceanographic data captured from completed assessments being re-used in the design and development phase of new coastal infrastructure projects as well as informing other regulatory assessment processes," DWER Senior Environmental Officer Gordon Motherwell said.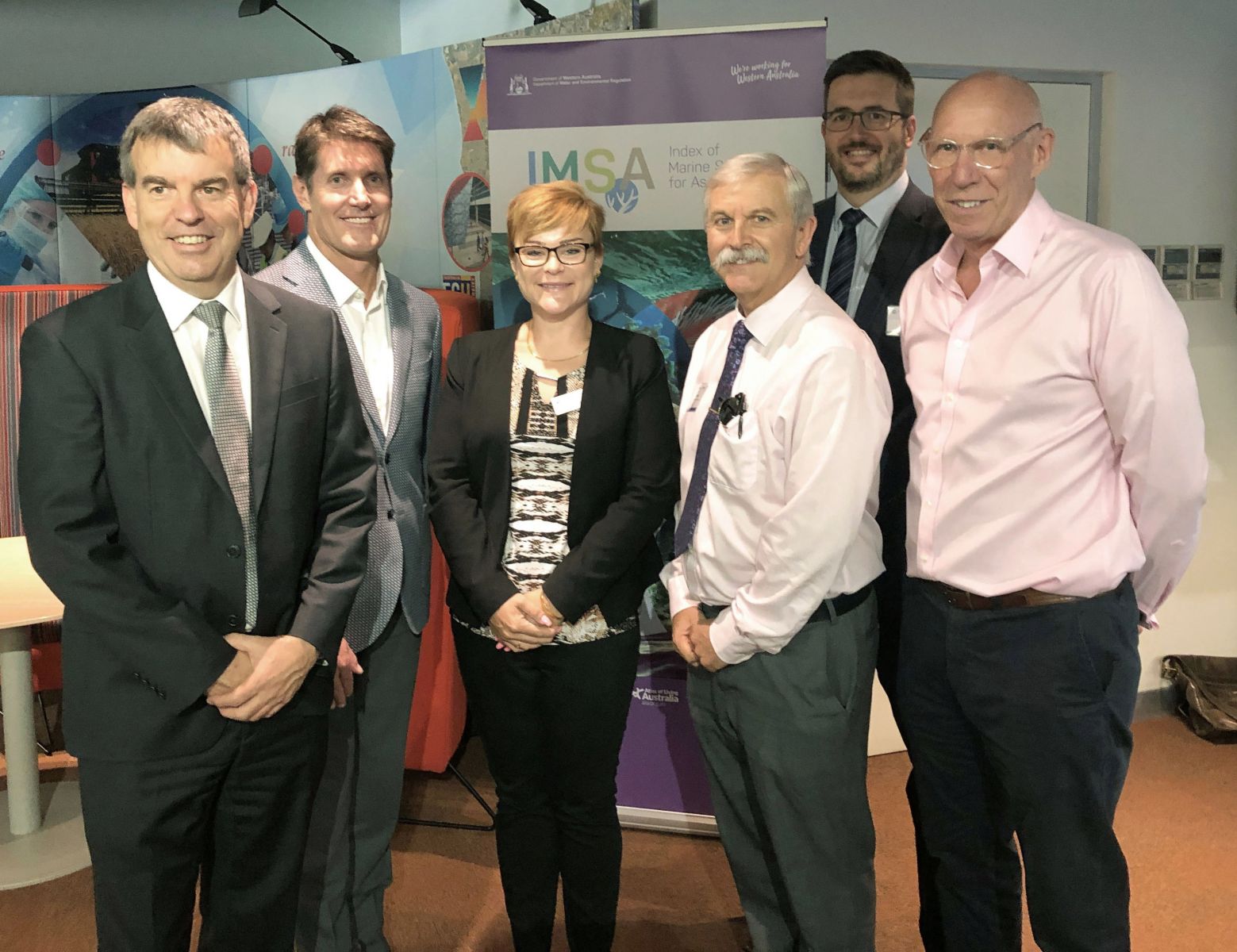 (L-R) Minister for Science Hon. Dave Kelly MLA, WAMSI CEO Luke Twomey, Executive Director DWER Nygarie Goyal, EPA Chair Tom Hatton, Executive Director Pawsey Supercomputing Centre  Mark Stickells and WAMSI Chair Paul Vogel at the launch of IMSA (March 2020)
In the longer term, the partnership will look to value-add by curating, analysing and re-interpreting the database to produce outputs and tools that will enable cumulative impact assessment, validate and improve environmental modelling and improve the accuracy of impact predictions.
"Our expectation is that, as IMSA evolves, more companies, agencies and research groups will see the benefits and become regular contributors," Mr Motherwell said.
Related Links:
Launch of Western Australia's largest marine environmental information database
Index of Marine Surveys for Assessments (IMSA) portal
https://wamsi.org.au/wp-content/uploads/2020/08/IMSA-website-banner-2180-1199.jpg
1199
2180
admin
https://wamsi.org.au/wp-content/uploads/2019/04/WAMSI-Logo-300x92.png
admin
2020-08-19 15:27:58
2021-02-12 14:25:20
New projects benefit from free access to environmental data