A dolphin with a distinctive white flash and a female bearing the scars of a shark bite, likely suffered while protecting her calf, were among about 120 individual dolphins recorded by researchers in the Kwinana Shelf area last year.
Dr Delphine Chabanne, from Murdoch University's Harry Butler Institute, is leading the project which forms part of the WAMSI Westport Marine Science Program and involves monitoring dolphin distribution from Woodman Point to James Point within Cockburn Sound.
The dolphins that were recorded included 24 calves under two years of age.
The research team did the surveys from a boat travelling along parallel lines, 500 metres apart.
Dr Chabanne said 55 percent of the non-calf dolphins were re-identified from the last survey work between 2011 and 2015, indicating there are long term dolphin residents in Cockburn Sound.
"The long-term connection with other resident communities is also supported with four of the Swan Canning estuary resident male dolphins observed interacting with dolphins in Cockburn Sound," Dr Chabanne said.
The team photographed the animals, noted their GPS coordinates and recorded water temperature and depth at the locations.
"One of the challenges was to make sure we have photographs for all dolphins when the groups are large," Dr Chabanne said.
"We were seeing 15 to 35 dolphins in a pod, sometimes breaking into smaller groups then re-joining before breaking again into smaller groups all in less than 30 minutes. This fission-fusion behaviour is typical in bottlenose dolphins."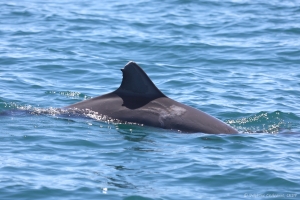 Dr Chabanne said 'Tippy', one of the adult females, had a damaged dorsal fin from a shark bite.
"The females are more vulnerable to being attacked because the sharks will often target the calves and the mothers will work very hard to protect them."
The first time 'Tippy' was recorded with fresh shark bites, her calf was only two months old. Two weeks later, 'Tippy' had suffered from further shark bites. The next time she was seen, unfortunately, her calf had disappeared.
Predation by other animals is not the only risk. Dr Chabanne said researchers spotted at least two calves with fishing lines around their bodies or pectorals.
Dr Chabanne said 'Tippy', was first recorded in the early 1990s and is believed to be close to 40 years old. In fact, several individual dolphins observed in Cockburn Sound during the last year are between 30 and 40 years old.
Another female called 'Jinx', with a distinctive white mark on her back, is believed to be close to 30 years old and gave birth to a new calf this year.
Dr Chabanne said the average life expectancy for a female in the wild was 40 years, with males often not surviving beyond 35 because of fighting and riskier behaviour such as venturing into less protected areas.
The researchers are looking at where the dolphins in the Kwinana Shelf area spend most of their time during the year and working out why they are in certain areas.
Dr Chabanne said data was collected over four seasons to see how dolphins responded to changes in the environment.
https://wamsi.org.au/wp-content/uploads/2023/03/Large-group-of-dolphins_Cockburn-Sound.jpg
924
1385
Cecile O'Connor
https://wamsi.org.au/wp-content/uploads/2019/04/WAMSI-Logo-300x92.png
Cecile O'Connor
2023-03-15 10:41:33
2023-03-15 10:43:05
Big pods and 'fearless mums' among the dolphins of Kwinana Shelf