An innovative trial to test the limits of seagrass under different dredging scenarios is underway that could make seagrass meadows more resilient to environmental pressures.
The findings could help to future proof seagrass meadows across Western Australia.
Edith Cowan University's Centre for Marine Ecosystem Research has established a new state-of-the-art facility to assess the effect of global change pressures on the temperate seagrasses that are found in Cockburn Sound.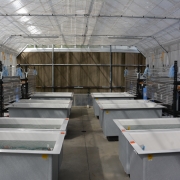 The research is being carried out under the WAMSI Westport Marine Science Program to inform the environmental impact assessment for WA's future terminal. A series of tank experiments will simulate a range of dredging pressures, including sediment quality and increased water temperature, with the initial three-month trial examining the effects of sediment burial on seagrass.
The researchers are using healthy adult seagrass plants collected from Cockburn Sound and transplanted into plots containing locally sourced sediment from the site and left for a week to acclimatise to the new tank conditions.
The seagrass are subjected to a range of sediment burial levels from 0–16 centimetres depth, to simulate potential dredging pressures from the port development close to the dredge site and spoil disposal area.
WAMSI Westport Marine Science Program theme leader Associate Professor Kathryn McMahon, said it was incredibly exciting to be able to carry out the research in a facility that bridged the gap between the laboratory and the real world.
"We are taking a two-pronged approach. Firstly, to generate knowledge that will assist environmental impact assessment, and secondly to develop strategies to build resilience of seagrass meadows into the future by looking for seagrass species or populations that may be more resilient to ocean warming and heatwaves." Associate Professor Kathryn McMahon, ECU
Monitoring is currently underway to assess the health of the seagrass under these different burial conditions through examining key physiological indicators such as plant growth rate and photosynthetic performance.
Research Associate Nicole Said advised future tank and field experiments would target the combined effect of temperature, light reduction, and organic matter expected to gain valuable insight into the tolerance limits and thresholds for seagrass.
"We will commence the field experiments during spring this year using underwater structures to simulate different dredging and port development scenarios in Cockburn Sound."
https://wamsi.org.au/wp-content/uploads/2022/09/DSC_8601-scaled.jpg
1707
2560
Anna-Lee
https://wamsi.org.au/wp-content/uploads/2019/04/WAMSI-Logo-300x92.png
Anna-Lee
2022-09-15 15:48:20
2022-09-15 15:56:21
New trial to future-proof Western Australia's seagrass meadows