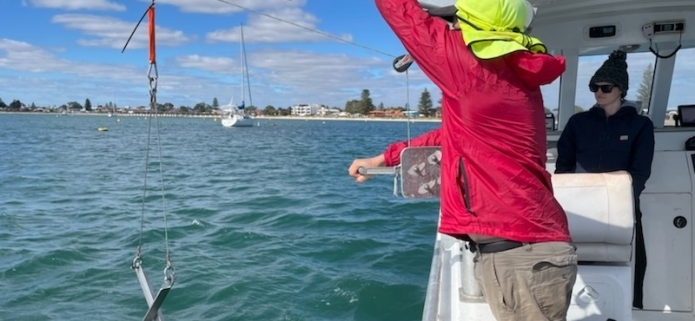 Sediment sampling by scientists in Cockburn Sound and Owen Anchorage has uncovered thousands of tiny marine animals and more than 200 unique species.
Researchers from Edith Cowan University, Murdoch University and Western Australian Museum found the animals, known as benthic invertebrates, living in and on top of sediment in 30 sites.
Professor Glenn Hyndes, from ECU, said the sediments were collected across two seasons using a Van Veen Grab Sampler which was operated on a boat to scoop up sediment.
"Sorting and species identification is continuing but at the moment more than 17,000 individuals from eight major invertebrate groups have been found."
"Sediments from the sites were sieved to remove fine mud which left behind coarse sediment along with the animals," Professor Hyndes said.
"During hundreds of hours work we found animals such as adult worms, snails, crustaceans, urchins and bivalves which ranged from one to five millimetres in size," he said.
"We used tablespoons to locate and separate often fragile animals from the sediment.
"Taxonomists at WA Museum have been working constantly to identify the species, characterising the hidden diversity of this urban seafloor habitat."
He said invertebrates were important because they played a significant role in healthy ecosystems as food for commercially important species, burrowers of sediment and by using multiple life strategies such as parasitism on bigger animals.
"This is the first benthic survey targeting invertebrates to be carried out at this scale in the Cockburn Sound area and the sheer quantity and diversity of invertebrates has been an interesting and exciting discovery.
"The data produced from this work will tie into similar projects focused on the abundance, diversity, distribution and diets of larger animals in Cockburn Sound and the ecosystem of which they are an important part."
Professor Hyndes is working on the project, conducted under the WAMSI Westport Marine Science Program, with Dr James Tweedley and Dr Sorcha Cronin-O'Reilly from MU, Henry Carrick and Leah Beltran from ECU, along with, Dr Peter Middelfart from WAM, Dr Lisa Kirkendale, Dr Andrew Hosie, Associate Professor Zoe Richards, Oliver Gomez and Ana Hara.
As part of the project, researchers are also investigating the settlement of species on different hard substrates and under different conditions and locations. This project forms part of the WAMSI Westport Marine Science Program and understanding how to improve the effectiveness of substrate in a concentrated area will help develop successful, large-scale initiatives.
https://wamsi.org.au/wp-content/uploads/2023/04/IMG_5514-e1680659785474.jpg
521
695
Cecile O'Connor
https://wamsi.org.au/wp-content/uploads/2019/04/WAMSI-Logo-300x92.png
Cecile O'Connor
2023-04-05 09:58:37
2023-04-05 09:58:37
Thousands of creatures uncovered in sediment samples