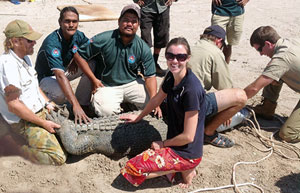 Postdoctoral research scientist Dr Jennifer Strickland-Munro of Murdoch University helping re-locate a large crocodile with Nyul Nyul rangers at Beagle Bay landing, West Kimberley, after a participatory mapping exercise (Photo courtesy of Mark Rothery)
Spatial planning in any natural resource context is complicated and requires a lot of different kinds of information, and in the case of marine parks, experience has shown that information about local people's needs and values is essential for effective planning and management. Understanding how people use the area (particularly in relation to tourism, recreational and commercial fishing) is also a key factor in effective planning. The more information the planners can access, the greater the likelihood that the plan will be successful.
A primary focus for WAMSI's $30 million Kimberley Marine Research Program is to provide the science needed to inform planning and management of the Western Australian government's proposed marine parks and reserves at Eighty Mile Beach, Roebuck Bay, Camden Sound and North Kimberley. Prof Susan Moore of Murdoch University is working with colleagues Dr Jennifer Strickland-Munro, Dr Halina Kobryn and Dr David Palmer on a WAMSI research project investigating human values and aspirations for the coastal waters of the Kimberley region. And their results are already being used by officers in the WA Department of Parks and Wildlife as input to their marine parks planning processes.
"The vastness of the Kimberley and its small, dispersed population – 34,795 people in a region twice the size of Victoria – made our sampling design particularly challenging," reflected Susan. "In the end we completed 167 participatory mapping interviews, involving a total of 232 people, across a very wide range of stakeholder groups. This is a large and diverse sample population compared to similar studies conducted overseas."
Interviewees included Aboriginal Traditional Owners, Aboriginal and non-Aboriginal residents, tourists and representatives from the tourism industry, commercial and recreational fishing, and aquaculture; federal, state and local government; mining, oil, gas and tidal energy interests; marine transport and aviation; and environmental non-government organisations.
"The aggregated mapped results show that while all of the Kimberley coast is valued, particular hotspots occur in Roebuck Bay; the western and northern coastal fringes, and the marine environments of Dampier Peninsula; the Buccaneer Archipelago; Horizontal Falls and Talbot Bay; and Montgomery Reef," said Susan.
"The most widely-held values were the Kimberley's biodiversity, its physical landscape, and its Aboriginal culture," said Susan. "It was also clear that Aboriginal people's values for the Kimberley coast and marine environments extend well beyond cultural values, and as such Aboriginal people must be included in decision-making associated with all the values of the Kimberley coast."
As is the case for all WAMSI-managed projects, researchers are expected to actively communicate and engage with end-users, thereby increasing the likelihood of rapid knowledge transfer. As a result, the results from this research project are already in demand by government agencies.
Mark Sheridan from Parks and Wildlife's Marine Policy and Planning Branch said that they had recently requested and received Susan's values maps to be used as part of their spatial planning for a number of forthcoming Kimberley marine parks, particularly the proposed North Kimberley Marine Park. "It's well-known that the greater local support marine parks have, the more successful they are," said Mark.
"While of course we've run targeted key stakeholder engagement processes to find out critical areas of use across the Kimberley," explained Mark, "this WAMSI project has really extended our reach by targeting the general community from a values perspective – it helps us to understand how people value the Kimberley, as well as how they use it."
"The researchers have identified an extensive range of values which we probably wouldn't have understood without this WAMSI research project," said Mark.
"Thanks in part to these research results we can try to ensure the new marine parks appropriately protect and conserve areas highly-valued by the locals," explained Mark. "This increases the likelihood of local support, and the likelihood of the Kimberley marine parks planning process being a successful one for the Department, traditional owners and the community in general."
Susan agrees. "Most importantly, these documented values provide a starting point for ongoing dialogue about what is important to people in the Kimberley," she said. "They provide an input to policy and planning, but ultimately, such values must be co-produced through meaningful discussions among all those interested in the future of the Kimberley."
https://wamsi.org.au/wp-content/uploads/2021/01/Strickland-Munro.jpg
193
300
AletaJohnston
https://wamsi.org.au/wp-content/uploads/2019/04/WAMSI-Logo-300x92.png
AletaJohnston
2014-10-20 14:27:29
2021-01-22 14:28:42
Valuing the Kimberley: social science informs planning for marine parks